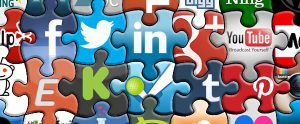 Not wishing to instil undue levels of existential angst in readers of the ILRB news, we all nevertheless need to be aware of our digital identity: how we present ourselves online, how findable we are, and how we can control our online presence. This will be particularly relevant to final year students who are preparing to enter the employment market in the coming months.
In the Making your online identity count: know your digital footprint tutorial, employers discuss the importance of a well-presented online identity, from a recruitment perspective. Then, two postgrad students talk about their online profiles and what steps they have taken to manage their internet image. Followers of the tutorial are encouraged to take to their keyboards and Google themselves to see what comes up (how many of us have ever actually done this?), with a worked example to explore as well. Tips are then given to apply some housekeeping to the results, in case they need a bit of a brush up to help them shine.
But don't stop there! Remind your students to take the process further in the follow-up tutorial Making your online identity count: build your online profile. This resource gives really valuable tips to students who are preparing to enter the job market, advising on possible tools to employ, and how to connect them to each other, in order to compile and maintain an effective 'online business card' to help them in their future lives after graduation.
Image credit:
Greyweed. 2012. SMM-Jigsaw-Banner. Available at: https://www.flickr.com/photos/21986855@N07/7607705630 [Accessed: 2 February 2019].