Audience response technology provides a popular and attractive option for incorporating interactivity into your teaching. It has been available for many years in the form of the well-known handsets ('clickers') systems. However, the latest ART innovations include online polling software.
1. Clickers
The most widely used software package at Cardiff is TurningPoint. This is on the network, accessible via the Start menu: All Programs – Cardiff Apps – Poolroom – TurningPoint. The standard setup involves the use of wireless keypads; audience members use these to select an answer from a given range of options shown on a PowerPoint slide. Each selection is sent to a receiver attached to the presenter's PC and results are displayed as percentages and / or graphic illustrations. 'Clickers' can be used with large groups in lecture theatres or smaller groups in workshop settings.
Benefits may include:
Added variety and interest.
Ensuring engagement with content.
Enabling participants to contribute anonymously.
Improved knowledge retention.
Opportunity to gauge understanding of particular points, so you can recap on any parts of the lesson which have not been understood.  This may be particularly helpful with cohorts that include international students who may need reinforcement of material owing to language barriers, and may be reticent about asking for clarification of a point.  (More guidance on teaching international students is available.)
'Clickers' technology is best used sparingly; it is good practice to limit the number of questions used since a session should not be driven by the technology!
Many academic schools e.g. CARBS and BIOSI have sets which may be available for loan.
2. Online polling
Online polling software is an alternative to 'clickers', and has a great advantage: you do not need to bother distributing handsets or worry about them disappearing. A useful tool we have tried at Cardiff is Mentimeter.
Mentimeter allows you to set up survey questions quickly and easily, and is free to use. However, the free version limits to two questions per poll.
Options include a multiple choice poll, a free text poll and others.
Responses can be made using a web link, with an assigned code for voting.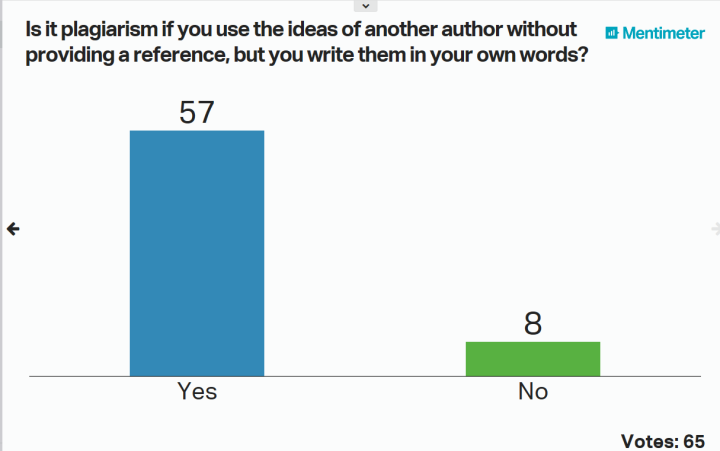 Other polling options include PollEverywhere and Kahoot.
In the next chapter we offer some guidance on lesson delivery.