Congratulations to our first ever certificate awardees!
16 July 2015

We're very pleased to be able to congratulate our first ever round of SHARE with Schools certificate awardees. All of these brilliant volunteers have undergone our training, put in at least five hours of contact time (and some of them much more than that!), and have completed reflective skills activities, including guest blogging for this website (some of which are scheduled to post soon).
Well done everyone!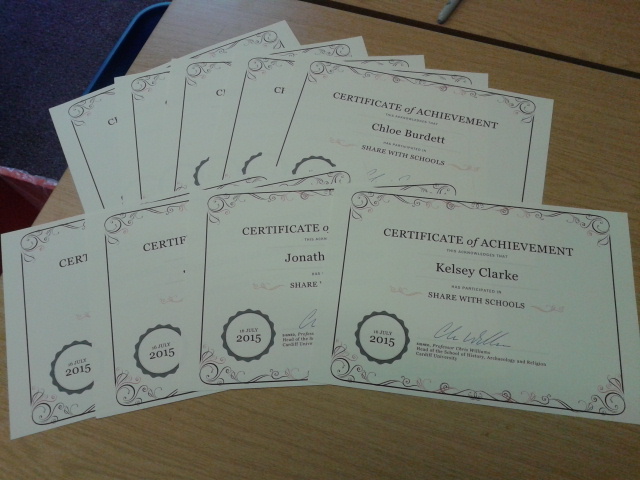 Some of the below volunteers will be receiving their's in person from the Head of the School of History, Archaeology and Religion at a graduation event today. The rest will be receiving them in the post.
SHARE with Schools certificate roll 2014-15
Benjamin Jacob Dillon
Bethany Jane Cox
Chloe Burdett
Jacob Henry Deacon
Jonathan Cook
Jonathan Gilbert
Jonathan Langston
Kelsey Clarke
Louise Thomas
Rachel Angharad Pugh
Thomas Owen Miles Snook
(In alphabetical order by first name.)