The 2019 International CXL Experts' Meeting
Venue: Zurich, Switzerland
Date: Thursday 5th – Saturday 3rd December, 2019
This meeting brings together key opinion leaders with newcomers, industry, and students for a lively 3-day program featuring wet labs and workshops, an overview of cross-linking and a scientific programme covering the latest clinical and basic research findings.
Abstract submission deadline: August 30, 2019
Early-bird registration deadline: September 30, 2019.
Further details of the meeting are available at: http://cxlexpertsmeeting.com/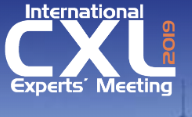 PAST MEETINGS
The 2016 UK-Cross-linking Consortium (UK-CXL) Meeting
Venue: ICC, Birmingham, Executive Room 2
Date: Tuesday 24th May 2016
Time: 6.15pm-8pm
Over 40 people, including 20 of our UK Cross-linking Consortium members, attended the 2016 UK-CXL meeting in Birmingham, which was held as a satellite to the Royal College of Ophthalmologist Annual Congress. The programme covered many of the most important issues relating to cross-linking and concluded with a discussion about the future direction of the consortium.  Click here to read the full meeting report.