WELCOME TO THE UK CROSS-LINKING CONSORTIUM WEBSITE

The UK Cross-linking Consortium was established in 2013 with funding from the Medical Research Council with the aims of:
Establishing a code of best practice for corneal cross-linking in order to standardise the treatment and its measurement outcomes.

Providing information and advice to national bodies about developments in corneal cross-linking.

Providing a forum for ophthalmologists and vision scientists to develop research collaborations and co-ordinated multi-centre studies.
The 2016 UK-Cross-linking Consortium (UK-CXL) Meeting was held in Birmingham on the 24th May as a satellite to the Royal College of Ophthalmologist Annual Congress. The meeting was attended by over 40 ophthalmologists and vision scientists, including 20 of our UK Cross-linking Consortium members. Click here to read the full meeting report. The 2020 UK-CXL Meeting,  due to be held on 19th May as a satellite to the Royal College of Ophthalmologists' Annual Congress, has unfortunately been cancelled due to Covid. Details of the 2021 UK-CXL Meeting have yet to be confirmed but will be announced in due course.
A National corneal cross-linking register and keratoconus monitoring tool has been developed by the UK Cross-linking Consortium, with support from the The Royal College of Ophthalmologists' Informatics and Audit Sub-committee.  Following a successful trial at Moorfields Eye Hospital in 2017, the Keratoconus Module is now available to all users of OpenEyes v1.18/2.0 for monitoring patients before and after cross-linking. The data set will provide a basis for clinical care, outcome analysis, clinical audit, revalidation, and research.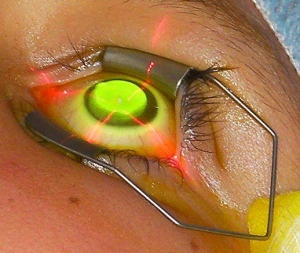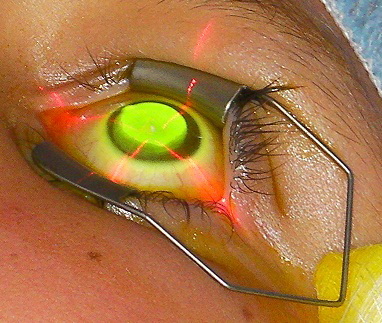 The potential of ultraviolet-A light (UVA) to cross-link tissues in the presence of the non-toxic photosensitising agent riboflavin had been known for some time, but it was not until 1998 that a group from Dresden suggested it as a potential therapeutic treatment to strengthen the corneal stroma….Read more
Clinical Applications
Cross-linking the cornea using riboflavin and ultraviolet A light has been widely adopted, refined and applied in a range of corneal surgeries and pathologies where the strength of the cornea might be compromised….Read more
Click here to keep up-to-date with current research related to corneal cross-linking.
Epithelium-off photochemical corneal collagen cross-linking has been approved for general use in the NHS. However, the National Institute for Health Care Excellence (NICE) encourages further research into the use of riboflavin/UVA cross-linking for keratoconus and keratectasia, especially epithelium-on (trans-epithelial) cross-linking and combination procedures. Click here to see the current NICE guidelines for epithelium-off and epithelium-on cross-linking.