Fitzalan Eisteddfod visit 4/3/2016
4 March 2016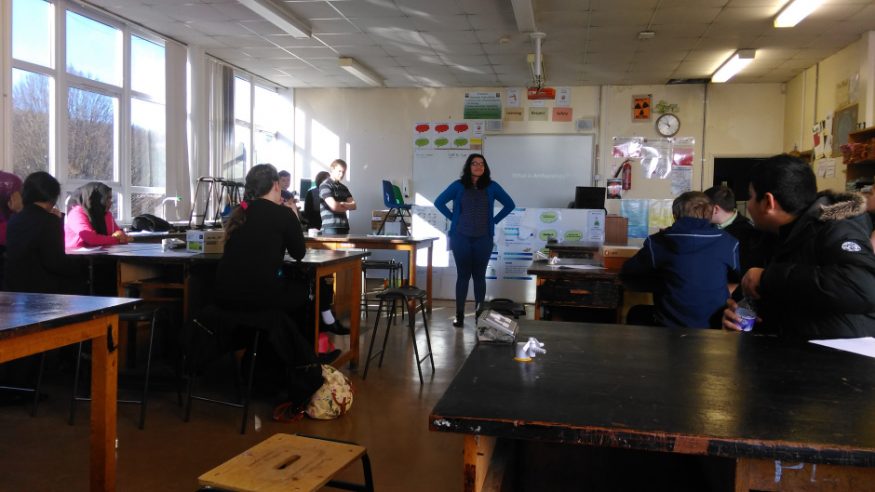 Today saw a SHARE with Schools's first, as 15 volunteers, 5 PG coordinators and a faculty member worked alongside 120 Fitzalan High School pupils. Fitzalan were running their ever exciting Eisteddfod event–a Welsh cultural festival–so the pupils were out of normal timetable and doing all sorts of exciting extracurricular or enriching activities. We ran three workshops in parallel, with each being delivered twice to different pupils. The workshops consisted of the brand new Religion in the Media Workshop, the STEM Archaeology Workshop and the Museum Curatorship Workshop. All went fantastically, with some brilliant work being produced by the pupils. They were a pleasure to work with.
Some of the nice things the Fitzalan teachers said about us included:
On the brand new RE workshop:
Excellent resources that engaged the pupils. 
Excellent delivery by students
Students/postgrads were enthusiastic and confident in their knowledge
Pupils were fully engaged for the whole sessions. As librarian I often witness pupils are not able to remain focussed for an hour – but all were well behaved today.

About the STEM Archaeology workshop

The students were introduced to an area which they may never have an opportunity to experience. They were interested and inspired about archaeology.
Great team of people very at ease with delivering the contents. Great interactions, communication with comments. Especially the idea of the uni students go[ing] around and meeting/teaching each one of the groups.
The resources allow the pupils to visualise what is being discussed, and reach conclusion in their own times. (A lot of the pupils present today were EAL [English as an Additional Language] but they all were able to quickly understand and follow the lesson.
A big thank you to the plethora of student volunteers who made this visit possible and delivered so marvellously:
Gemma Bush
Hannah Coverdale
Benjamin Dillon
James Figgitt
Clara Freer
Jonathan Gilbert
Stephanie Hall
Hasnan Hussain
Rachael Mott
Kieran Murphy
Christopher Parry
Emily Radcliffe
Laura Rees
Molly Thompson
Liberty Vaz Townsend
James Pillinger