Fitzalan Return Visit – 10/07/23
12 July 2023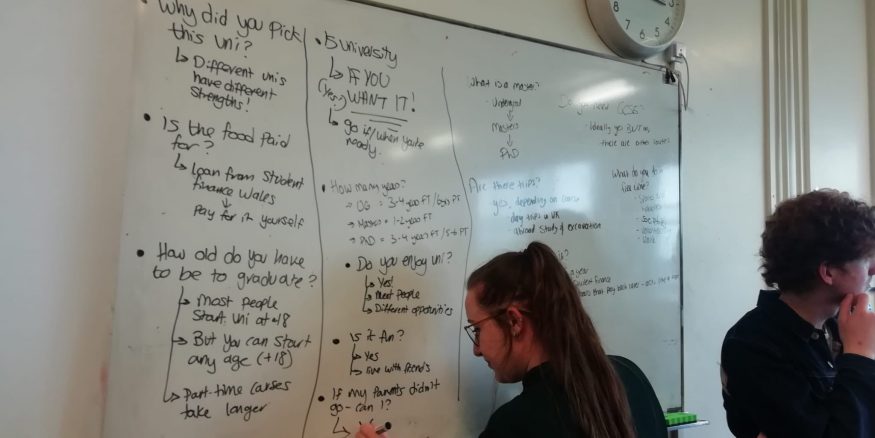 On 10th July, we hosted year 7s from Fitzalan High at the university for a return visit. We welcomed began the day with an introduction and Q&A about university life before running our Turn of the Century workshop. This involved the pupils interacting with historical material and objects to learn about and communicate knowledge around life in 19th and 20th century Wales.
The young people were then split into two groups. Whilst one visited the conservation labs for a tour with Dr Eric Nordgren and some of the conservation students, the other partook in a workshop on Medieval Heraldry. This was designed with the 'DeClare Yourself' team, a group of master's students on the 'Heritage, Community Action and Public Engagement' module. In this version, pupils were taught the rules of heraldry before designing shields that represented themselves.
After a lunch break, we then had a lecture by a PhD Candidate and Graduate Tutor from the school, Clare Parry, who presented her research on Persian and Near Eastern dynastic displays.
There was then time for a final Q&A and plenary before we waved goodbye to the school for another year. We are very much looking forward to working with Fitzalan again in the future.
Some examples of pupil feedback:
I liked the lecture and shield drawing
My favourite thing today was making a shield
I liked designing the shield and finding out what uni is like
I got lots of questions and answers
I liked all of my experience and the helpers are really kind
Discovering that we were all doing the same family in the discovery challenge, because we got to learn lots about the family and put the pieces together