Celebration Event
12 June 2023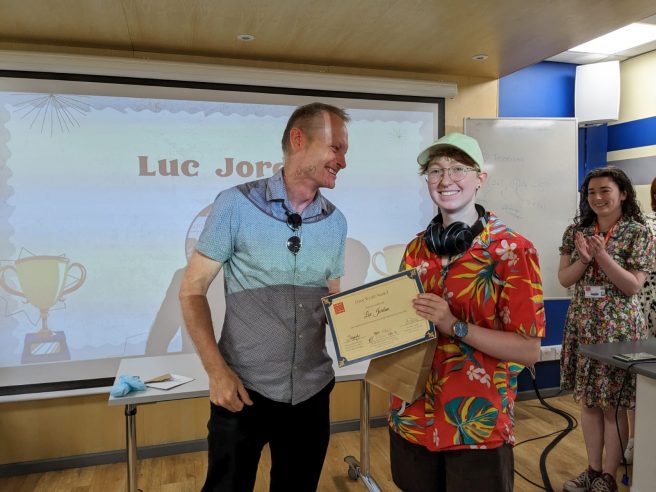 On Friday 9th June we ran our celebration event, honouring those who have achieved their certificates this academic year. It was a lovely evening with refreshments and attended by volunteers, our Head of School Professor James Hegarty, our founder Dr Dave Wyatt, our  line manager Dr Oliver Davis and of course, the coordinator team. We were delighted to award Samuel Mutter, Emily Lewis and Luke McLoughlin their SHARE with Schools Certificate. To achieve this, the volunteers had to:
Attend a Volunteer Induction & Classroom Conduct and Safety training session

Attend two workshop specific training session

Complete 6 hours of outreach

Write a blog post for the SWS website

Complete these sessions in Your Career Journey Website:

EXPLORE:

– Your personality indicator

– Reflect on your personality indicator (paste this reflection into your Record of Competition sheet)

– Graduate Attributes indicator

DEVELOP:

– Reflecting on your experience (paste this reflection into your Record of Competition sheet)
This is a massive achievement and we are very proud of the volunteers. We also were able to appreciate our founder, Dr Dave Wyatt, thanking him for his work for the project and naming an award in his honour. Henceforth, the 'Dave Wyatt Award' will be given to the volunteer who has given the most hours to the project across the academic year. This year, we were thrilled to present the inaugural award to Luc Jordan, for volunteering a massive 17 hours across all the types of opportunities offered by SHARE with Schools this year.
Thank you to everyone for coming. We look forward to another great year of SHARE with Schools with more opportunities to take part and get a certificate next year!