'Lessons in Time' in partnership with People Around Here
25 January 2016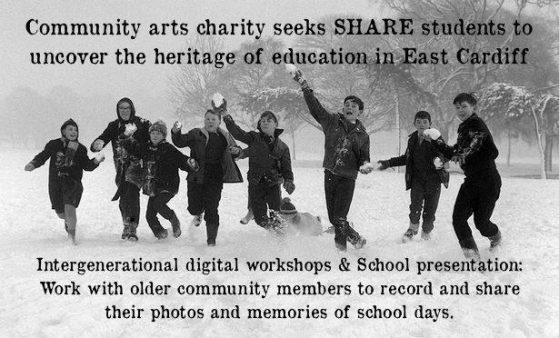 New opportunity for community based heritage workshops
'Lessons in Time' is a heritage project delivered by community arts charity People Around Here in East Cardiff.
People Around Here is seeking SHARE students to volunteer in digital inclusion workshops with older community members to scan, upload and share their photos of their own school days, and record their spoken memories on film. There will be an opportunity to present the heritage you uncover to pupils at a school in East Cardiff in the last session.
In the first year of the project, pupils at St. Teilo's High collected oral histories about school memories, researched the changes in education in Llandeyrn over 60 years, produced an exhibition at Cardiff Story Museum, and created two 3D interactive maps showing the development of schools in the area from the 1940s to the present day. For more info visit http://lessonsintimepah.blogspot.co.uk
Come along to the intro/planning session on Wednesday, 27th January 2016 to find out more. Workshops will run once a week in February and March.