Guest blog by volunteer Louise Thomas
2 November 2015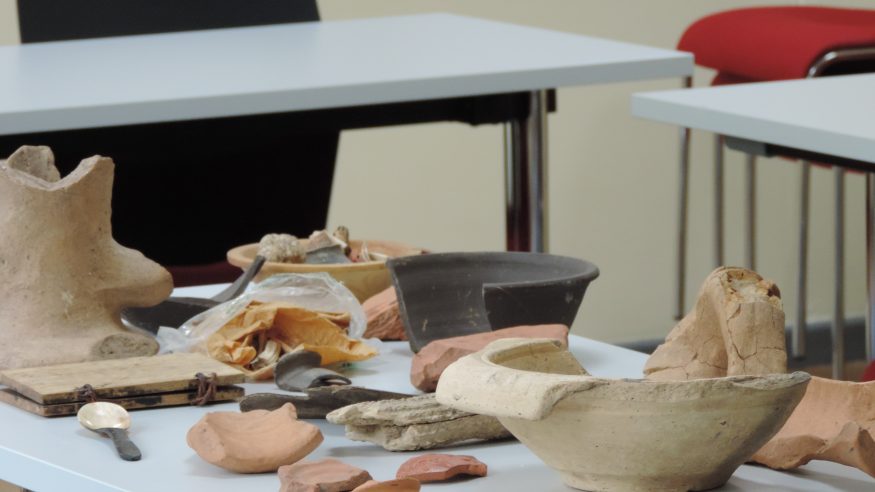 My name is Louise Thomas and I am a third year Archaeology and Ancient History student. I first heard of the SHARE With Schools project through my involvement with the CAER Heritage project last summer, a community engagement project based in the Cardiff suburbs of Caerau and Ely. I decided that I would like to get involved with SHARE with Schools because, despite not having ambitions to teach, I enjoy sharing my love of my subject with others and think that it is very important for children to be exposed to topics that might not usually come up in schools, or to have the opportunity to engage with the past in new and exciting ways.
I delivered a variety of workshops, mostly the Romans in Wales, at Pencoed Comprehensive, Cathays High School and Woodlands School, working with ages ranging from year 7 to year 11. Adapting the worskshops to suit a variety of ages and abilities was a fun challenge for the team and it helped us greatly improve our communication skills.
My involvement with SHARE with Schools gave me more than the chance to use and improve key skills such as communication, presentation, and flexibility, it gave me a sense of pride and achievement and many enjoyable memories from the schools.
The children at woodlands school in particular made me happy that I decided to get involved. We worked with pupils right through from year 7 to year 11, who varied in ability but were all equal in the huge amount of enthusiasm they showed for learning about the Romans in Wales, and not just the sword and helmet! All of the pupils seemed to really enjoy the workshop and everybody got involved, asking questions, coming up with ideas of their own, and designing their own legionary standards. Although the teachers were present, the pupils were all very supportive of each other and cared about their classmates and making sure the SHARE with Schools team understood all of their needs which was a wonderful thing to witness. I was lucky enough to meet some of the pupils from woodlands again when they visited Caerau hillfort this summer and they all remembered the day the Cardiff University visited them which makes the visit worthwhile in my opinion.
SHARE with Schools provides so much more than just classroom experience. It helps those who get involved to develop so many important skills which will help them in university life and beyond, it also provided school children with an educational, fun, and memorable experience which anybody would be proud to be a part of.