Kamaldeep is Professor of Cultural Psychiatry & Epidemiology, Wolfson Institute of Preventive Medicine, Charterhouse Square.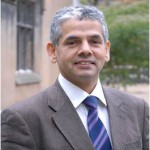 Email: k.s.bhui@qmul.ac.uk
Tel: +44 (0)207 8822 012
Fax: +44 (0)207 8885 728
Research interests:
Kamaldeep researches socio-cultural factors to prevent and reduce inequalities in population mental health & suicide. He deploys novel anthropological, sociological & epidemiological methods to optimise quality and safety and to improve access to evidenced treatments. Research projects include adolescent & adult populations, developing new screening tools for dementia in South Asians and to iimprove therapeutic communications. Research studies are on chronic fatigue, adolescent self-harm, housing, discrimination, cultural identity, religiosity, homelessness, radicalisation, terrorism, and narrative interventions for mental disorders, hepatitis C, diabetes, cancer, urban regeneration, arts, social media and health policy. He has published over 150 papers and 10 books. 
Publications:
Bhui KS, Lenguerrand E, Maynard M. Stansfeld S. Harding S. Does cultural integration explain a mental health advantage for adolescents? International Journal of Epidemiology. 2012, doi:10.1093/ije/dys007
(In Press)
Bhui KS, Hicks MH, Lashley M, Jones E. A public health approach to
understanding and preventing violent radicalisation. BMC Med. 2012 Feb 14;10(1):16.
Campion J, Bhui K, Bhugra D. European Psychiatric Association (EPA) guidance on prevention of mental disorders. Eur Psychiatry. 2012 Feb;27(2):68-80.
Bhui K. A debate on cultural competence in mental health is urgently needed. Ment Health Today. 2011 Nov-Dec:9.
Tuck A, Bhui K, Nanchahal K, McKenzie K. Suicide by burning in the South Asianorigin population in England and Wales a secondary analysis of a national data set. BMJ Open. 2011 Dec 19;1(2)
Bhui KS, Dinos S, McKenzie K. Ethnicity and its influence on suicide rates and risk. Ethn Health. 2011 Dec 19.
Bache RA, Bhui KS, Dein S, Korszun A. African and Black Caribbean origin cancer survivors: a qualitative study of the narratives of causes, coping and care experiences. Ethn Health. 2011 Nov 23.
Adamson J, Warfa N, Bhui K. A case study of organisational Cultural Competence in mental healthcare. BMC Health Serv Res. 2011 Sep 15;11:218.
Keown P, Weich S, Bhui KS, Scott J. Association between provision of mental illness beds and rate of involuntary admissions in the NHS in England 1988-2008: ecological study. BMJ. 2011 Jul 5;343:d3736.
Bhui K, Dinos S. Preventive psychiatry: a paradigm to improve population mental health and well-being. Br J Psychiatry. 2011 Jun;198(6):417-9.