[Mel's Guest Post]
26 October 2015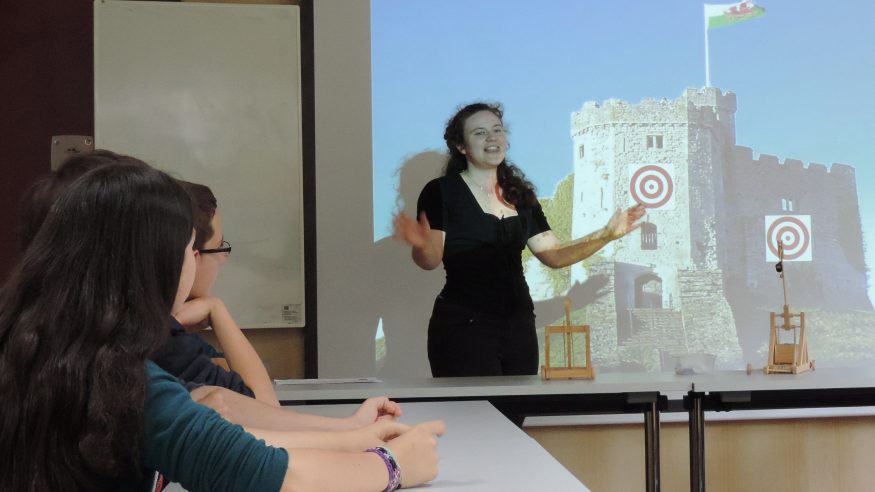 Five years ago, a team of postgraduate students were assembled by Dr David Wyatt to develop what would become a flagship impact project for Cardiff University in the School of History, Archaeology and Religion.
I came into the project in its second year, so I missed the first year with all its struggles and excitement as things started to get off the ground. I was taking over from Tom Hunt, who had been in charge of the Year 12 Higher Education workshop. I had to be interviewed for the post: SHARE With Schools had funding, and it was a paid pro rata position. Members of the founding team interviewed me alongside our department's Workplace Partnerships Officer, and I presented my workshop idea to them and then sold my skills to people I had known for a while already who all very professionally acted as if we were strangers; a very odd experience. It was my first interview since the part-time job I had during my part-time MA.
What do you know about SHARE with Schools?
If you were successful, how would you balance your workload with your PhD?
What do you think is the most important thing SHARE with Schools does?
I left the room honestly not knowing how I'd done, but really appreciating the whole experience of applying and being shortlisted. It was a great feeling to get the post and join the team, and the feedback from the interview left me feeling hugely positive. I owe a huge debt of thanks to the team: Dr Sarah Doherty, Dr James Jenkins, Dr Cath Horler-Underwood, Dr David Wyatt and our awesome Workplace Partnership Officer Graham Getheridge for that first chance to be a part of it, and the confidence it inspired in me. I hope I haven't forgotten anyone!
What SHARE with Schools Does For The Team
Not only do SHARE With Schools offer PGRs (postgraduate researchers) the chance to go through a proper application and interview process (everyone who applies usually gets an interview, just for the practice) it gives the team opportunity to be on the interview panel. That gives you a really good insight into what interviewers are looking for, and what it's like to be on the other side of the desk. Being involved in that selection process really helps shape your own CV and makes you more aware of your own interview performance, too!
Last academic year (2014/15) the, mostly Undergraduate, volunteers got presented with the first batch of official certificates at Graduation. Those who fulfilled all the criteria – completed all the training, delivered at least the set minimum number of workshops and written a blog post for us – got an official certificate listing the many transferable employability skills they had gained through working with us.
The list of workshops we deliver has increased, and so has the variety. The PGR coordinators train up the UG volunteers in all of them, and are currently running another recruitment event.
Before we even get into how SHARE with Schools is enhancing the school curriculum, building long-lasting relationships with its partner schools, promoting widening access and breaking down barriers between our partners' pupils and Higher Education, this project is already hugely rewarding and worthwhile from a student's perspective, whether PGR or UG.
As a Coordinator, you get a crack at interview process practice; Undergrad recruitment and training (which means marketing, advertising, organising sessions and leading talks and demonstrations); project leading; working as a team with fellow Coordinators and UG volunteers; maintaining contact with schools (organising and time-tabling visits to schools and their return visits to the University throughout the academic year); and developing impact projects in the form of workshops for a range of age groups and academic abilities. There's also opportunity to co-author papers for peer-reviewed journals about our impact activities, research transmission, and our qualitative success: essentially, what we do and how we do it.
As an Undergraduate volunteer, you get a crack at active classroom experience in which you deliver presentations and work closely with small groups of pupils in a workshop situation; learn to adapt to accommodate different learning types and abilities among the pupils you work with; complete reflective practice exercises including a blog post for the website; teamwork skills development, and project development as they take an active role in developing workshops themselves.
For those of us looking for jobs in the Heritage sector or academia, this 4* rated project opens doors. One of the original team got a job with the Heritage Lottery Fund after graduating, another currently works at the Ashmolean Museum, Oxford, coordinating their outreach events; I also was shortlisted for a Heritage Lottery Fund (HLF) position in London on the strength of my SHARE with Schools experience and work with the CAER Heritage Project. Otherwise: think REF points.
It gives you an edge with your PGCE applications, but also provides transferable skills that various businesses and industries are looking for. Presentations, adaptability,  project development, teamwork, reflective practice, anything an interviewer might ask you to give an example of, SHARE with Schools experience can help with that.
And did I mention the bit about enhancing the school curriculum, building long-lasting relationships with its partner schools, promoting widening access and breaking down barriers between our partners' pupils and Higher Education? I think I did. What about inspiring pupils to achieve more, and to consider the Humanities as serious options? Showing the relevance of the Humanities and transmitting cutting edge research in an approachable manner?
No matter what your priorities are, being part of SHARE with Schools is something to consider. It is going from strength to strength, and as it enters its fifth year, has a number of exciting developments in the works. We are hoping to develop new workshops – we have eight academics (so far) expressing an interest in having their research and externally funded projects being turned into new impact case studies to be delivered through SHARE with School's existing infrastructure – and the prospect of the co-authored paper to keep us busy.
While I have handed over my workshops – Year 12 and Medieval Society – I am still active as an Early Career Researcher (ECR), recruiting academics in the department to add their weight to the project and create new workshops, promoting the project on social media and being one of the current paper's co-authors. I am immensely privileged to have been and still be a part of this, and delighted to be celebrating its fifth year.
Happy birthday, SHARE With Schools! May you have many more of them.
You can find out more about Dr. Melissa Julian-Jones on her blog or on her academia profile.