Grangetown Careers and Role Model Week 07/03/2023
8 March 2023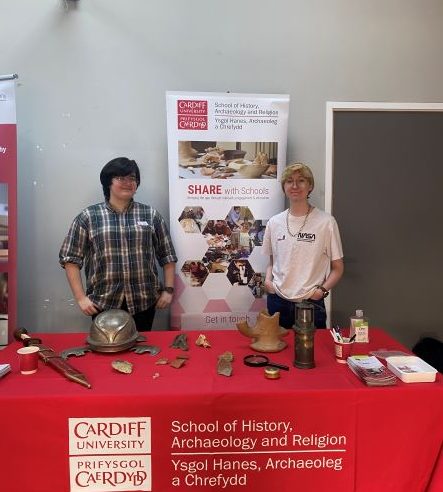 Yesterday the SHARE with Schools Team were delighted to have a stall at the Grangetown Careers and Role Model Week. This popular event invites Grangetown residents to talk to Cardiff staff and students about the variety of programmes on offer at the university and possible future opportunities. Attendees were also invited to watch a series of interesting 5 minute presentations from staff across the arts, humanities and social sciences.
At our stall, we invited visitors to handle a variety of archaeological and historical artefacts which showcase some of the exciting research that goes on in SHARE. We were also able to answer questions about our experience as students at Cardiff university, as well as discuss possible outreach and volunteering opportunities that students and staff can be involved with.
A big thank you to our volunteers Luc and Mel for doing a fantastic job, and to the Grangetown Community Gateway for inviting us. More details about the week's events can be found here.