MEDOW is funded by the Seventh Framework Programme of the European Union (FP7).  It is part of  the Marie Curie Actions programme and, within the MCA programme, is an Initial Training Network.
Marie Curie Fellowships are European research grants available to researchers regardless of their nationality or field of research. In addition to research funding, scientists have the possibility to gain experience abroad and in the private sector, and to complete their training with competences or disciplines useful for their careers.
Initial Training Networks (ITN) are one of the types of Marie Curie 'Actions'.  ITNs offer early-stage researchers the opportunity to improve their research skills, join established research teams and enhance their career prospects.
You can see further details of Marie Curie Actions here.
The Seventh Framework Programme (FP7) bundles all research-related EU initiatives together under a common roof playing a crucial role in reaching the goals of growth, competitiveness and employment […] The broad objectives of FP7 have been grouped into four categories: Cooperation, Ideas, People and Capacities. For each type of objective, there is a specific programme corresponding to the main areas of EU research policy. All specific programmes work together to promote and encourage the creation of European poles of (scientific) excellence.*
The "People" programme aims to increase the human R & D potential in Europe in terms of both quality and quantity, including by recognising the 'profession' of researcher with a view to maintaining the excellence in basic research and the organic development of technological research, and encouraging European researchers' mobility from, to and throughout Europe. Moreover, it should help to provide the right conditions in order to attract the best foreign researchers to carry out research in Europe […] The Specific Programme shall support the activities for "People", stimulating people to enter into the profession of researcher, strengthening, quantitatively and qualitatively, the human potential in research and technology in Europe including as regards the potential of women. The activities supporting training and career development of researchers, referred to as "Marie Curie Actions", shall focus on the key aspects of skills and career development and strengthened links with national systems.**
Click here to visit the European Commission's Research & Innovation website.
Click here to visit Cordis, the EC's Community Research and Development Information Service.
The European Commission is committed to supporting researchers in their work.  The EURAXESS centre is an initiative providing access to a comprehensive range of information and support services to researchers wishing to pursue research careers in Europe or stay connected to it.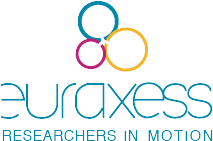 * http://cordis.europa.eu/fp7/understand_en.html
**http://ec.europa.eu/research/participants/portal/ShowDoc/Extensions+Repository/General+Documentation/Legal+basis/Specific+programmes/sppeople_en.pdf;efp7_SESSION_ID=t1TYR36XxvZ4L22Ns12987vcfZ16J1xXFvZ3GM6GmDq3BJR8nhTd!201441588